WHAT'S INCLUDED IN THE COURSE?
Tube Marketing 101 Essentials (80+ videos)
Mentorship and Lifetime Membership
Viral Video Blueprint (30 videos + Mentorship)
Look Over My Should As I Create Thumbnails
The PERFECT Video Formula
How to DOUBLE or TRIPLE Adsense Revenue
Watch and Learn As I Edit Videos
My Personal WorkFlow
Learn How to get 1,000 subscribers FAST!
BONUS: Access to TM101 FB Group
BONUS: Access to FREE Channel Reviews
BONUS: Access to ALL NEW tutorial content
BONUS: Save Hundreds of $$$ OFF Software

OVER $2,800 OF VALUE AND 90+ VIDEOS!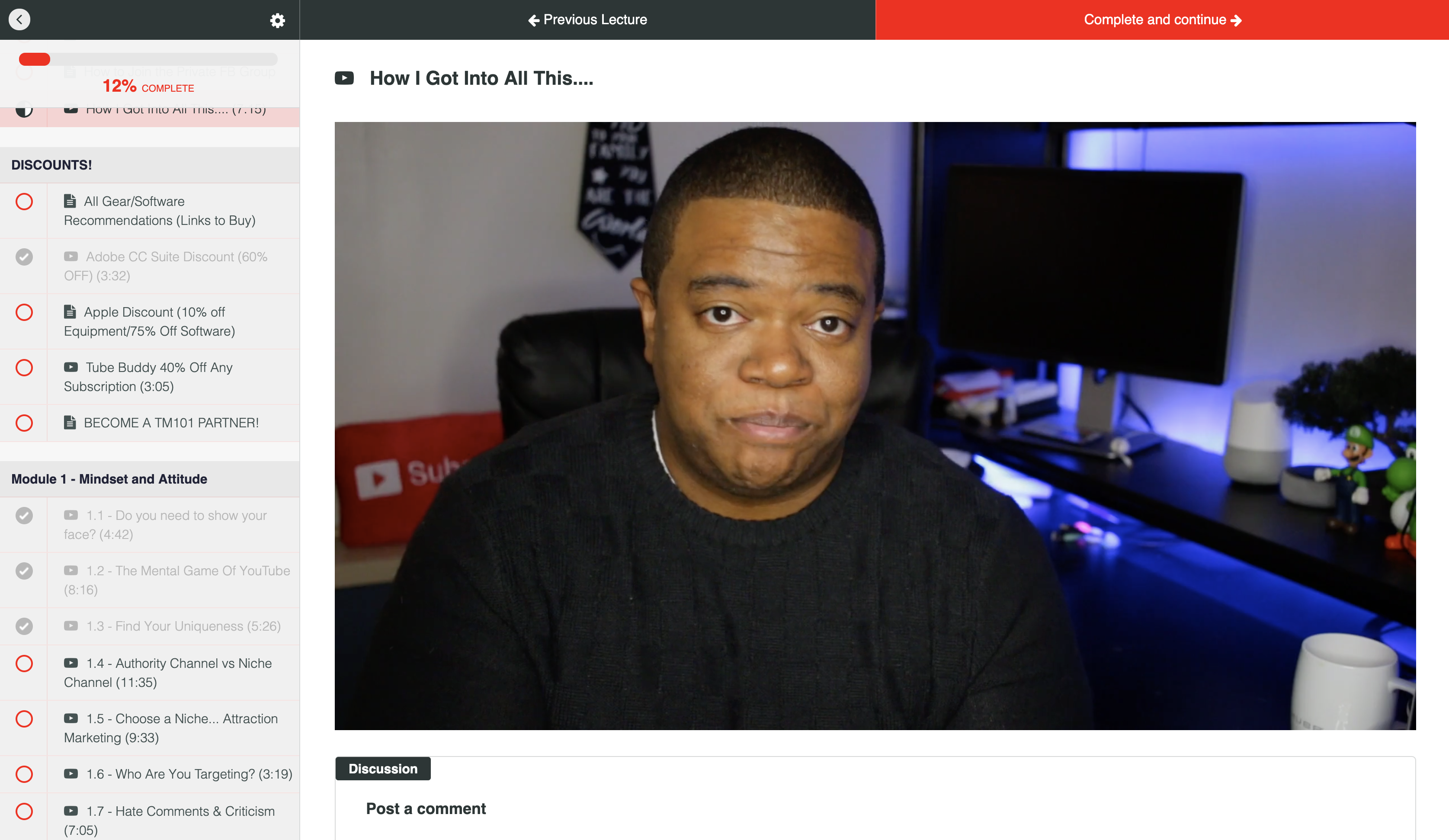 ACCESS TO MEMBERS ONLY FACEBOOK GROUP

Whether you're a beginner or have a good handle on the basics, this course takes you through every step of the way on how to become a Full Time YouTuber in record time. Included in the Tube Marketing 101 course are all of my the secrets that I used to go Full Time On YouTube without needing a huge audience.

30 DAY MONEY BACK GUARANTEE
This isn't another course built to take your money. If you join the course and realize it's not right for you within the first 30 days, I will give you a 100% refund. The goal was to create another source of revenue for my company, but over that.. was to help other replicate our success in their marketing - so I don't want your money if you don't feel it is right for you!
FREE DOWNLOADS
Download thumbnail backgrounds, video scripts, free licensed music, and consulting directly from me. You can even use our proven website template and landing page!
EXLUSIVE DISCOUNTS ON GEAR/SOFTWARE
Get a 60% OFF discount on Adobe Creative Cloud Suite, 40% OFF TubeBuddy, 10% OFF Discount on Apple hardware and 35% OFF Apple Software to build your channel. Also, recommend TM101 to others and receive a commission for your referral!
LIFETIME ACCESS
You will get instant access to ALL the content FOR LIFE! This includes ALL the new content I will be adding based upon member feedback & questions! So if there's ANYTHING that you would like covered that is not in the course, ask and I will film and upload that content ASAP! Our goal is to focus our time and energy on new techniques and improved business operations and be able to pass that on to you - which allows you to focus more time on shooting and therefore making money!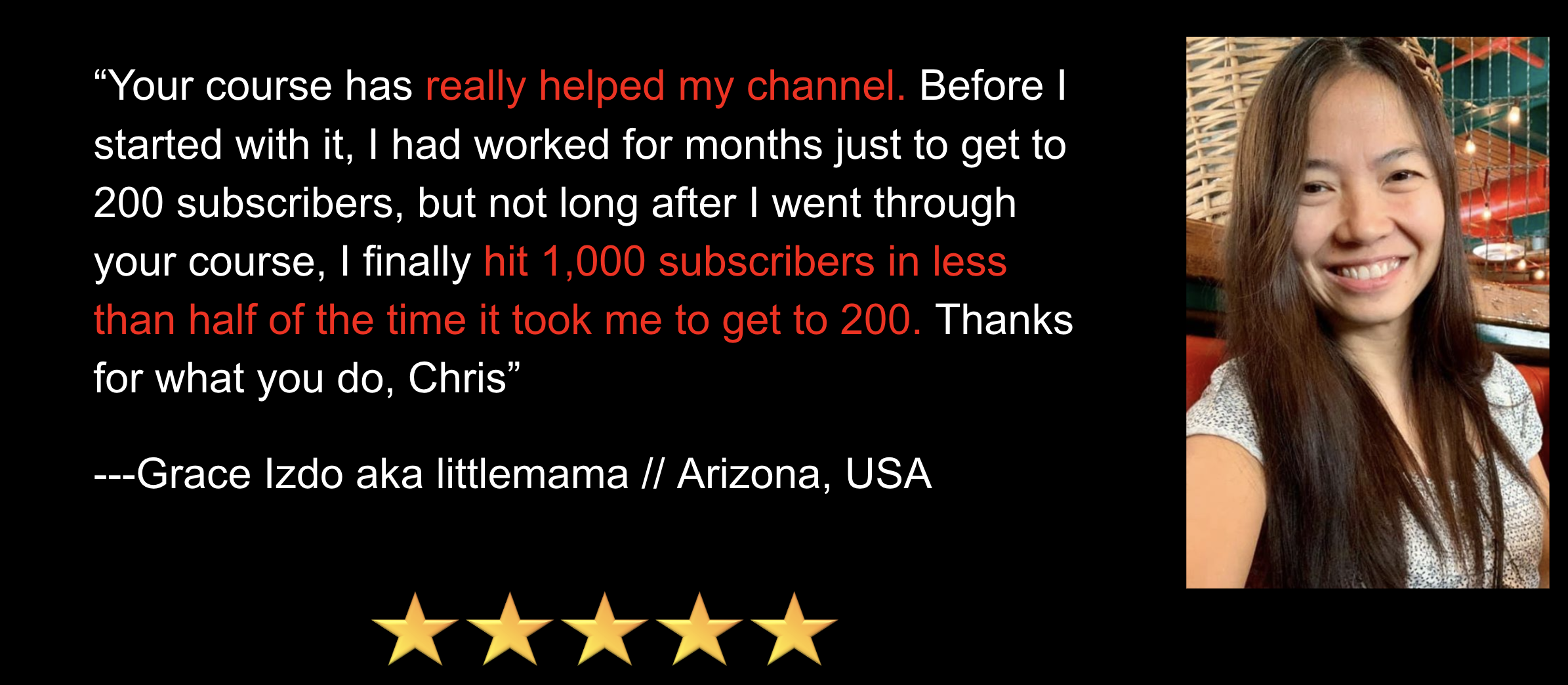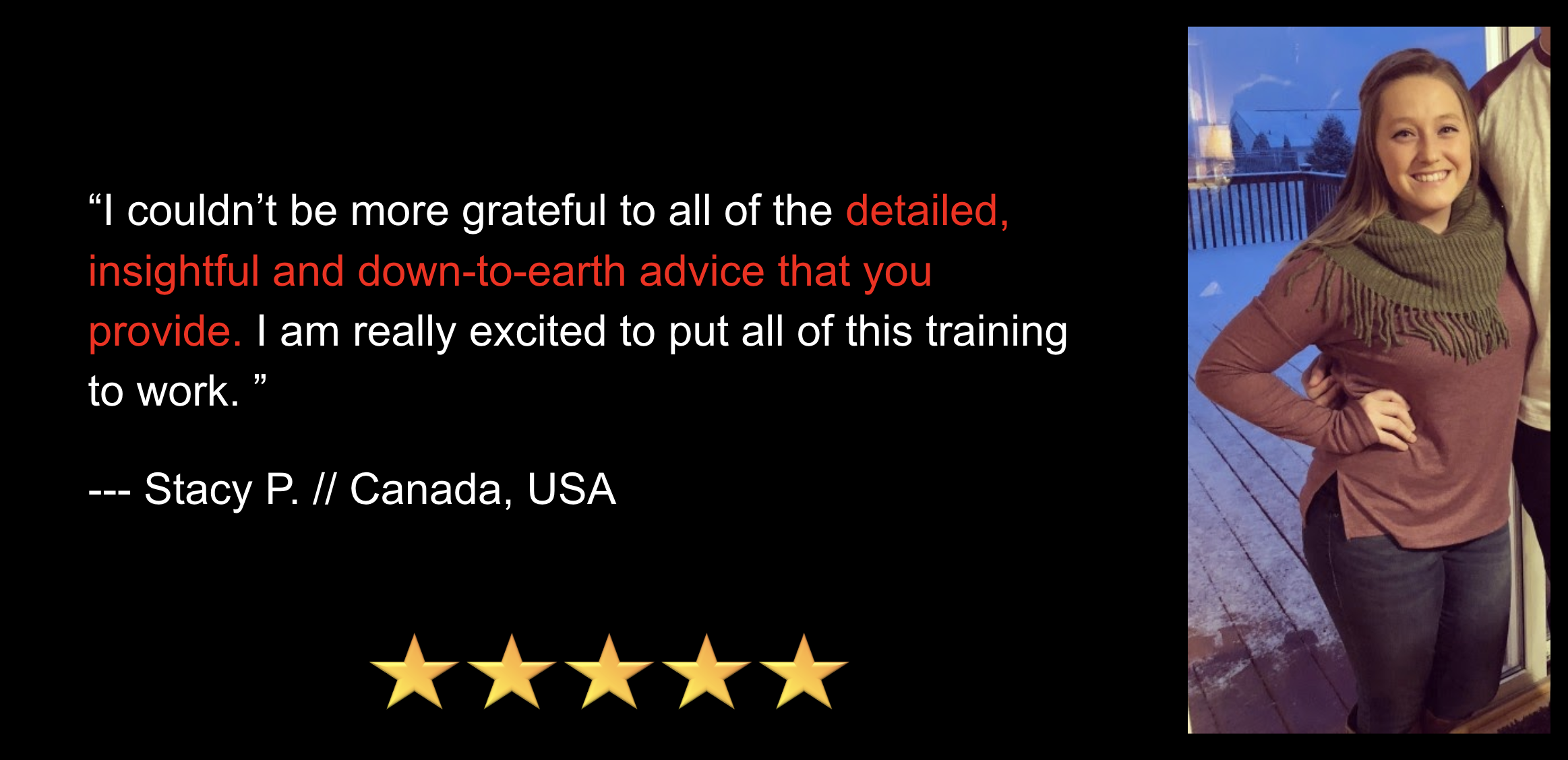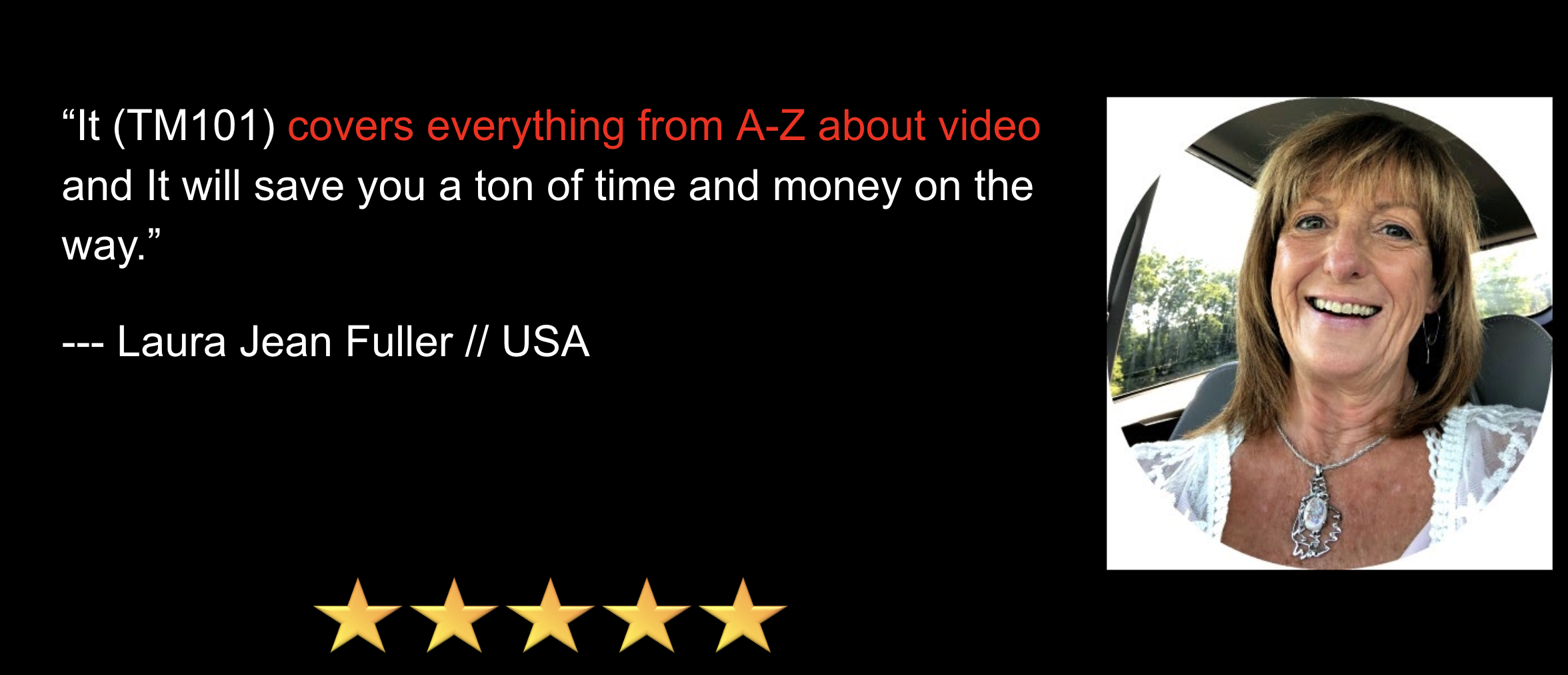 Course Curriculum
TESTIMONIALS
Available in days
days after you enroll
INTRODUCTION
Available in days
days after you enroll
WHO IS THIS COURSE FOR?
Anyone interested in starting a growing their own business

Anyone who wants to leverage YouTube and turn their passion into a career

Struggling creators needing to monetize their audience
"BUSINESS IN A BOX"
One of the things I love most about starting or growing a YouTube business is that, when you use my system, it's what I call a "business in a box."
What do I mean by that?
Well, the most difficult aspect of starting a business is starting from scratch, and having to figure out everything on your own. That's why most small businesses fail.
They simply are not prepared for the challenges, and they make too many mistakes because they aren't following a proven system.
This is also what makes a franchise business -- like McDonalds -- so incredibly valuable. When someone buys into a franchise (e.g. opens up a McDonald's store), they are paying a premium because there's a proevn system that virtually guarantees their success.
They don't have to be the next Bill Gates or Warren Buffett to make it work -- they just have to follow the system and put in the work.
That's why it costs millions of dollars to open a McDonald's today.
I designed Real Estate Photographer Pro with that model in mind.
I know that most people don't want to take the risky, tedious path of figuring out everything on their own. I know that you're willing to put in the work, but you're also smart enough to not want or need to reinvent the wheel -- you can get to your destination faster and easier by following a proven model.
Of course, there is one big difference between Tube Marketing 101 and opening a McDonald's: THE COST! Since you do not have to worry about real estate deals, huge overhead costs, and paying out royalties on yuor sales, you can start or grow your business for just the price of enrolling in an online course.
3 POSSIBLE PATHS TO SUCCESS
One of my favorite things about YouTube is that it gives you plenty of options as a business owner.
Path #1: Operate a 'one person' business
For many people this is a great way to start out. It's a risk-free, low pressure way to get your feet wet, while earning money doing something you enjoy.
It also allows you to earn a pretty good income, without most of the challenges of a traditional business.
Remember, in my first year I was able to earn roughly $25,000, without having to work full time, rent an office, hire employees, and so on.
You can choose to stop at this point if you'd like. Personally, I chose to keep growing my business, which leads me to...
Path #2 Become a Brand
For anyone interested in growing past the "one person" business phase, a great option is to grow into a brand.
With YouTube, it is very easy to become your own brand. Just think about Kylie Jenner. She is able to 'suggest' anything and have millions of people go buy it.
You can have that same influence in your chosen niche with your channel.
You only need to convince 1,000 people to buy something for $100 and you can make $100,000.
Again, you may choose to stop at this point, comfortably serving the best for your audience operating as a brand and influencer. Or, you may choose to do what I did...
Path #3: Scale your business
Today, my small "side hustle" business is not a full fledged and growing operation, I have employee's, millions of views on YouTube across multiple channels and an annual revenue of over $150,000.
The beautiful thing about having all of these options is that you don't have to decide now -- you can start from wherever you are currently at, and grow it to whatever level you're comfortable with.
Or maybe you'll want to challenge yourself to get out of your comfort zone, and grow into a new one! Again, it is all up to you. As a Tube Marketing Pro, the sky's thelimit, and you get to choose.
FROM HOBBYIST TO $150,000+ IN YEARLY REVENUE
One of my favorite things about YouTube is that anyone can do it with any passion.
It doesn't matter if you're already YouTuber or just getting started. Or even if you are afraid to appear on camera, I can teach you how to do it and be successful at it.
And it doesn't take years or months to learn. Nor does it cost thousands of dollars or require you to take out expensive student loans, and so on.
To the contrary, it's something anyone can learn quickly, and get up and running in just a few minutes if you really wanted to.
I know from personal experience. When I started my very first YouTube business, it was only meant to be a side business.
I was about to be a father and my wife wanted to quit her job so that she could stay home with our newborn. The job that I had could not cover both of us, plus I had made some bad decisions in my life that left me in over $30,000 worth of credit card debt and over $20,000 in school loans.
My plan was to just make the minimum payments until I could just find out what to do. But I started questioning that plan because I had other friends that were in the same boat that I was in with seemingly no end in sight.
So I had seen the trap I fell in and the trap others before he had fallen in, and I did not want that for me and my new family.
That was very sobering -- can you imagine be in that situation and spending over a decade barely scraping by?
Luckily, right before my wife quit her job, I started working on a blog and YouTube channel. Trust me, I was far from a professional and just put some very bad videos out for the whole world to see.
In fact, if you listen closely to some of my early videos, you can hear my infant son crying in the background. Not a proud moment, lol.
But I continued to push on and eventually I had made over $25,000. When that happened, I decided to double down on what I knew was working and decided to go full time on it instead of working a regular job.
That turned out to be the best decision I've ever made.
I could have stopped there if wanted to. Making a decent living just just creating a few videos.
But I saw the potential and knew it could be bigger, so I did everything I could to grow the business and now it's pretty much self-sustaining.
Fast forward about 18 months and some incredible things happened:
I quit my dull 9-5 job.

10x'd my revenue by the next year -- We are well over $150,000 in yearly revenue and still growing!

I have been able to scale the business so that it runs itself...
Remember what I said earlier.... it doesn't matter where you are currently at...
Maybe you're considering YouTube as a side hustle, like I was at first...
Or maybe you want to turn it into a nice six-figure-income, doing something enjoyable...
Or perhaps you want to grow it into a larger business, like I did...
Either way, I'd love to help you get there.
That's why I created Tube Marketing 101.
I've packed this course with all the information I wish I'd started with, including:
90+ Videos

Mentorship and Lifetime Membership

Video Blueprints

How to create viral Thumbnails

Learn to Double and Triple Your Adsense revenue

Access to private Facebook group

Free Channel Reviews

Access to all future content

Exclusive software discounts
I even go into all the nitty gritty details, like naming your business, reading analytics, creating videos without showing your face, etc -- and of course everything you need to know about what gear to use and how to shoot and edit video.
I could not be prouder of this course, or more excited to share it with you.
Feel free to hav a look around the page -- I believe you'll find all the information you need to make a decision, but if not, feel free to email me at [email protected] and I will get back to you shortly (I read and respond to emails personally).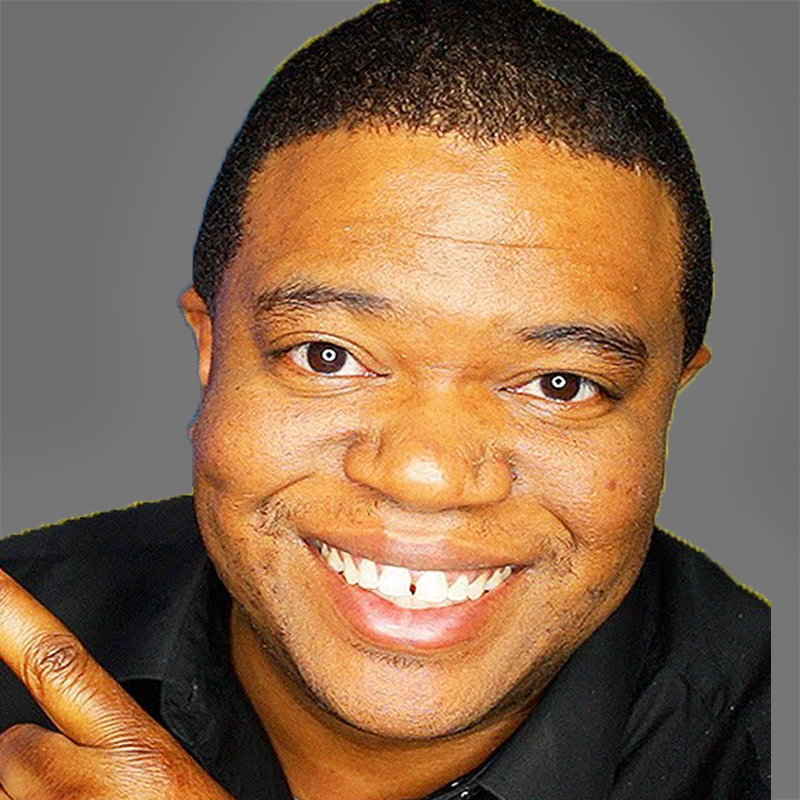 Hello! My name is Chris Myles and I am the founder or Tube Marketing 101 - and the creator of this course and community!
I started my business in 2015 and have quickly grown to the point where I can earn a living working for myself. I have been through a lot and have compiled our best practices into this course. Tube Marketing 101.
It has always been my belief that the reason some YouTubers are not as successful as they would like to be stems not from a lack of skill in their craft, but from a lack of the business and content creating concepts needed to build a thriving business.
So while this course covers every component on how we shoot and edit: we place a heavy emphasis on catering to your audience and growing your brand. The same processes I used to build my brand online.
I have always (as I am sure you have) been turned off by a lot of the scammy feeling online courses can have. So I was hesitant to build a course myself as I didn't want to get lumped in with that crowd. However, I am extremely proud of this product as I truly believe it offers a life changing amount of value for many creators and others who want the opportunity to either become a full time YouTuber, or transition from a job they don't like to a self driven career.
If you have any questions, pleas feel free to contact me directly at [email protected]